Tooth stains and discolorations can cause people to feel self-conscious about their appearance and avoid smiling or showing their teeth. Teeth whitening can remove or reduce these flaws and restore teeth to a brighter, healthier-looking color. Dr. Joseph E. Frew offers professional teeth whitening at his office in Silver Spring, Maryland.

Teeth Whitening Q & A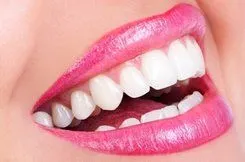 What causes stains and discoloration on teeth?
Given the staining properties of commonly consumed foods and beverages, such as: coffee, tea, red wine, and blueberries, even proper oral hygiene sometimes isn't enough to keep teeth white and bright. Other culprits include smoking and the natural aging process. Teeth whitening is an excellent way to restore the natural color of your teeth, or even make them whiter than your natural color if desired. Please contact us today to see if you are a candidate for this type of whitening.
Who is a candidate for teeth whitening?
Patients with healthy gums and teeth are generally good candidates for teeth whitening. Teeth whitening is extremely effective in eliminating surface stains and discoloration. However, internal discoloration caused by medications or trauma are more effectively treated with crowns or veneers.
What type of teeth whitening does Dr. Frew offer?
To accomplish the whitening of your teeth, Dr. Frew utilizes a tray whitening system. This tray whitening system is completed in 2 steps. The first step is to make an impression of your teeth. With this impression, he then crafts you custom whitening trays that you can use over and over. The trays are then filled with a special dentist -grade formula that contains a higher concentration of the whitening agent, contain hydrogen peroxide, than that which is found in over-the-counter products at drug stores. You put the gel in the trays and wear them for a short period of time over a span of a few days. This often results in a whiter smile of 4 - 8 shades!
Is teeth whitening safe?
Under the care of an experienced dentist such as Dr. Frew, teeth whitening is extremely safe. Some patients may experience increased sensitivity immediately following treatment, but this typically remedies quickly on its own.