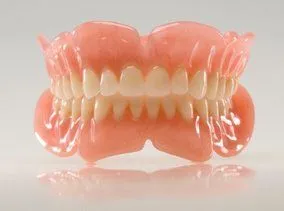 Missing teeth can cause difficulty in chewing food and speaking clearly, as well as, cause embarrassment and make patients feel self-conscious. Dr. Joseph E. Frew, located in Silver Spring, Maryland, has remedied these issues for countless patients with comfortable and naturally-looking dentures.
Dentures Q & A
What are dentures?
Dentures are dental prostheses used to replace several missing teeth, whether the result of gum disease, injury, or age. Missing teeth should be replaced not purely for aesthetic reasons, but for the benefit of a patient's overall oral health. When missing teeth are not replaced, it can set off a chain reaction of problems.
What are the different types of dentures?
There are two main types of dentures:
Complete dentures, designed to replace an entire set of teeth.
Partial dentures are designed to replace some teeth.
Partial dentures are secured in the mouth by attaching them to the remaining teeth on both sides. Those who require more stability for their dentures to hold them firmly in place can have dental implants done. These implants offer a more secure way to hold artificial teeth in place on a permanent basis.
Can I eat and sleep with dentures?
Patients can eat with their dentures in, although it usually takes time to adjust to this. Certain foods, such as those that are sticky or hard ones, should be avoided though. They can cause damage to dentures. Patients should also avoid chewing gum while wearing dentures. Patients can sleep with their dentures in, although they should be removed at night. Dentures put pressure on the gums and surrounding bone, which can cause soreness or discomfort. Taking them out eases this pressure.
How do I care for dentures?
Dentures require regular care to keep them in good condition. They also need to be cleaned to remove food particles and lower the risk of tooth decay or gum problems. Caring for dentures involves brushing or cleaning them with dishwashing liquid or another suitable cleaning product to remove bacteria and prevent plaque buildup. Patients shouldn't use toothpaste on dentures, as it can damage dentures.
How long do dentures last?
Dentures should last for years when properly cleaned and cared for. Eventually, they might need to be relined if they start to fit differently or cause discomfort. Relining involves adjusting dentures to ensure a comfortable fit.

Even though dentures are not real teeth, you should care for them like they are. You should brush them to remove plaque and food particles before removing your dentures. After they have been removed you should place them directly into room temperature water or a denture cleaning solution. Never use hot water because it could warp the dentures. Your dentures are delicate, so make sure you are careful when handling them so you don't drop them. Also, never try to adjust your dentures yourself. You could ruin them, so you should always seek assistance from your dentist if they feel uncomfortable or loose.