Teeth grinding and clenching can result in jaw discomfort and potential damage to your teeth. Night guards, custom-made by Dr. Joseph E. Frew in Silver Spring, Maryland, provide both excellent protection for teeth, along with relief of the symptoms caused by teeth grinding during sleep.

Night Guards Q & A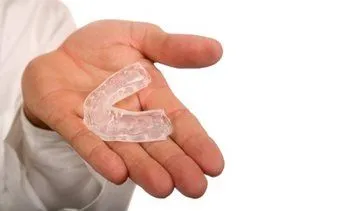 A night guard is a protective device made of hard acrylic or soft materials designed to be worn during sleep. It serves to re-establish a natural space between the upper and lower teeth to protect them from grinding or clenching together. Teeth grinding, also called bruxism, is difficult to stop without such intervention, since it occurs while patients are asleep, and many are unaware that they grind their teeth. Night guards are used to stop teeth grinding as ease its symptoms, which can include: jaw soreness, also known as temporomandibular joint disorder (TMJ), headaches, and neck pain. Grinding can also lead to tooth damage, such as cracks.
How common is bruxism, or teeth grinding?
Bruxism is a common sleep problem, affecting 10% of adults, and as many as 15% of children, according to the National Sleep Association. It can be caused by a variety of factors, including not just by stress and anxiety, but also sleep disorders, an abnormal bite, or teeth that are missing or crooked.